Owner Services
---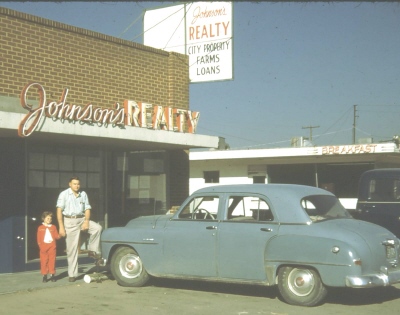 We hope this brief summary of our company is informative and helpful in your decision to consider us for your property management company. We would enjoy visiting with you personally so that a more detailed analysis can be done on your particular property. Johnson Property Management, LLC looks forward to gaining your complete confidence, and to managing your investment property to its maximum potential. We manage property for all types of ownership entities, and would be happy to provide references upon request.
Who we are
Founded in 1953 by Virginia Johnson, Johnson Property Management, LLC (JPM) specializes in Real Estate Investment Property Management. We are a family owned and operated professional management company serving the entire Treasure Valley of Idaho. Don R. Johnson graduated from the University of Idaho with a degree in accounting, served as a U.S. Army officer and spent several years as a management accountant before taking over the family property management business in 1976. Matt Johnson graduated from Boise State University in 2000 with a business degree and after gaining some experience with Wells Fargo Bank, came to work with JPM. Matt is also a licensed Realtor with Keller Williams Realty Boise. Andrew Johnson has background in the IT and telecommunications industry and has completed a bachelors degree in Communications from Boise State University. Andrew has worked with JPM since 2004. Pamela (Johnson) Knighten has worked full time with JPM since 1989. Donald M. Johnson is one of the founders of our company and is still active in the real estate and management business. He regularly consults with JPM and currently holds the oldest active Idaho Real Estate Broker's license in the state (59 years).
How we manage
Johnson Property Management, LLC currently manages over 900 rental units throughout Idaho's Treasure Valley. Our properties range from 30+ unit multi-family apartment communities to single family homes as well as multiple homeowner's associations. We offer a unique and effective approach to property management, in that our approach is very hands-on. The management staff is aware of every detail regarding the property, our tenants, and the account in general. Each property is managed as though it were our own, and we follow the time-developed rules that protect our client's investments. We are one of the few professional managers in the Boise Valley that personally meet each interested at the property for a showing. Meeting applicants by our experienced staff prior to leasing is a valuable part of our qualifying process. Our service package is customized to the needs of each individual client and in most cases we provide full service management. Our management experience is second to none in the Boise Valley, and in recent years our vacancy level has run at approximately half of the average for our area.
Getting Started
When Johnson Property Management, LLC assumes management of new property, we start the "Nuts and Bolts" data file. At NO COST to the owner and for our own use, JPM will conduct an in-depth physical inspection of the property. We have found that efficient and effective management is more easily attained by having full, up-front knowledge of all the systems of a property(heating/cooling, plumbing, electrical, appliances, sprinklers, etc…).
Additional information
Listed below is some additional information about our company regarding how we do business, and how we would manage your property.
When we receive phone calls in our office regarding new tenancy, we begin the screening process with a few simple questions and attempt to schedule a showing at the property. All HUD guidelines are strictly adhered to. All showings are conducted by a JPM property manager. We apply years of showing and renting experience to affect the maximum opportunity to rent the property to the most qualified tenants possible. Informed, experience-based decisions in tenant selection are made based on the showing, credit history, employment/income status and background history. Johnson Property Management charges only a small application fee. A high percentage of received applications are acceptable and the rental agreement is written up and gone over with a JPM manager so that we have a personal understanding with each new tenant. Placing qualified residents in your property is one of our most important goals as your property management company. Johnson Property Management is fully capable to facilitate evictions at no additional JPM fee to clients. Evictions are very rare at JPM with less than 1% per year.
Keeping our accounting system simple, effective, accurate and easily understood by our clients has always been a primary goal of Johnson Property Management, LLC. As an accountant, Don Johnson set up our current system to serve this purpose over 35 years ago. Over the years our accounting system has been upgraded and updated to keep current with the times and technological demands. Typically, JPM establishes joint or separate operating accounts with each investor so that clear records are available to clients with all income and expenses flowing through the account. We provide customized monthly reports to clients per our management agreement and customer need. Year-end statements are also provided for tax purposes.
Clients may request that mortgage payments and property tax payments be made. We are also happy to review property insurance coverage with clients. Utilities are always set up in the property owners name in care of JPM. Our records are always open to clients and inquiries are always answered promptly.
When we take on a new property or a 30 day notice to vacate is delivered to our office, we begin the marketing of your property. JPM does not have an elaborate client fee structure to cover the high costs of advertising! The majority of our vacancies are advertised in the following venues:
JPM website. All available properties and often those upcoming are available our very modern and functional website. The website provides description, photos, map, application, maintenance request and much more. Please review it at www.jpmidaho.com
Property Signage. All available rentals have a professional Johnson Property Management, LLC sign placed in the front yard of the property with web address and phone numbers to our office.
Idaho Statesman. We place bulk ads in the Idaho Statesman print media to maintain a presence in the community and to include property name, web address and phone number. This also keeps the cost to clients at a bare minimum.
Craigslist. We will list your property on Boise Craigslist for free as often as Craigslist will allow. Craigslist has become heavily used as an advertising medium and a high percentage of traffic is a result of this free advertising.
Google Ads. Johnson Property Management, LLC keeps a running ad with the internet giant Google to promote our presence on the internet. Each month, the cost of the ad is split among the clients that have had a vacancy filled that month. This cost is incredibly small for the amount of visibility that your property gains. If you do not have a vacant unit rent during the month, there is no cost to the client for this ad.
In office listings. All management staff in the office have instant visual access to all available listings as well as those upcoming 30-day noticed properties for reference.
The small cost of internet and print media to advertise a property is paid by the client and will be billed monthly. Some internet and print media does cost, though this expense is surprisingly small. Anytime that we do special advertising, you will be contacted for comments and approval. Your recommendations and suggestions are always welcome. Our internet and paper advertising have proven to be successful through many years of trial and over time we have eliminated the advertising venues that are too expensive and not effective enough. All signage and webpage advertising are included in your management fee.
Johnson Property Management, LLC does not use maintenance as a profit center. All incoming repair work orders are analyzed for the best option to repair, and in some cases a JPM manager physically looks at the problem prior to assigning a repair. Repair persons are of independent contractor status and what they charge is what you pay-no markup or additional processing costs. They are licensed and insured. We have excellent contractors that have worked for our company for years and charge competitive rates. In many cases a JPM manager can easily solve an issue with little to no cost to the client. "Hands on" property management is a true description at JPM. We also manage our own rental properties and we know the real life economics of being thrifty while maintaining a high level of quality.
Our management fees vary depending upon services provided and how much time we estimate it will take to effectively provide services. Management fees are paid directly from the property operating account and paid following the close of the calendar month. Beware of management companies that offer their services across the board for 6% or less. They often times attempt to make up for a lower management percentage with an elaborate fee structure that is used to cover higher overhead and advertising costs, as well as to increase their bottom line. We believe in charging an honest rate to completely manage the property, and our incentive to fill your vacancies is also our incentive to earn the percentage and your business.
Generally speaking our fees are as follows:
-Client with one to four properties ………………………. 8% of rent collected
-Client with five or more properties ……………………..7% of rent collected